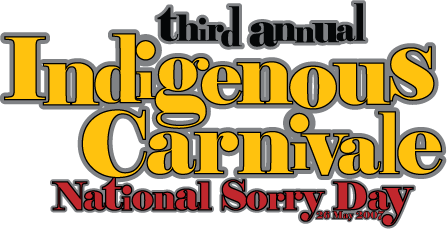 From Clif's blog:
A very cool, and damn motivated and inspiring bloke, called Jack Manning-Bancroft is helping organise the above day. He writes: We welcome you all to this years Indigenous Carnivale. On Saturday the 26th of May it will be National Sorry Day. We will pay our respects to those who have suffered in the past, we will pay our respects to those who continue to suffer, and we will offer nothing but respect to each other. This is our arena. This is our community. This is our time.

Running alonside Carnivale is it's big brother AIME (Australian Indigenous Mentoring Experience) – where Jack's helping me to do some mentoring work. It's a mentoring program that works with High school Indigenous students. All of the profits from Carnivale will go to its big brother AIME.

Music Acts include: The Herd, Radical Son, Saving Grace, Japa Boys, Indigie Femme, Aunty Wendy's Mob, Emma Donovon, The Street Warriors.

There is also an art exhibition: Divided we Fall is an exhibition to be curated by leading Indigenous artist Bronwyn Bancroft, and supported by Sharmilla Wood and Andrew Dowding. Divided we Fall will feature artworks from mainly Aboriginal artists working in both urban and rural settings. On one level the cross-section of work demonstrates that Aboriginal art and culture is not homogenous or static, but dynamic and diverse.

Carnivale will run from 3pm till 10pm @ Sydney University's Manning Bar. The Event will be held on all three levels.

It is an all ages event! Tickets can be purchase @ all Moshtix outlets and from Access which is on the middle level @ Manning @ Sydney University. It's only $10 !!
I am going.